Finding the right rug can be a daunting task. I know for me this is the hardest purchase to make. Rugs are expensive so deciding on one can seem to me like a big commitment. With how I like to change it's not an investment I am willing to make too urgently.
I have been on the hunt for a few rugs in my home. It's time to update the ones we have and as styles change, ours don't exactly fit the space anymore. I am a sucker for beautiful textiles and generally when shopping will gravitate to the most expensive fabrics. In all honesty buying a quality rug is worth it. The cheap ones will loose their weave and fuzz all over. Not to mention the colors are usually not as true to nature if they are cheap and they will loose shape quickly. All things to think about when shopping a rug.
Even though I have expensive taste one of the things I am good at is resourcing affordable options. Achieving the look without the price tag! I have rounded up some affordable options below without sacrificing quality. I will link the inspiration photo and designer rug as well as the affordable option below so you can choose according to your budget. These rugs are limited and may go fast!
All of the links below are affiliate links and I do make a small commission at no extra cost to you.
Woven Rugs
The Studio McGee rug pictured here is one of my favorites. This woven rug is versatile in many style homes. It is woven by skilled aritsans and fits well in just about any nuetral space. An 8×10 sells for a little over $650. I have linked it here ( any blue highlight) but a more affordable option below if this is just too steep.
Some alternate style rugs are woven as well and are a much more affordable price point. This Safavieh Montauk Collection sells for $165. Safavieh has been selling rugs for years and still have the quality you would want in a rug. This rug is so similar I honestly would take a shot at it. Again I have linked it here for your ease of shopping.
Lets not forget Joanna Gaines Target Line. The price point is in between the two above and the style is beautiful.
Joanna Gaines Black and White Heathered Rug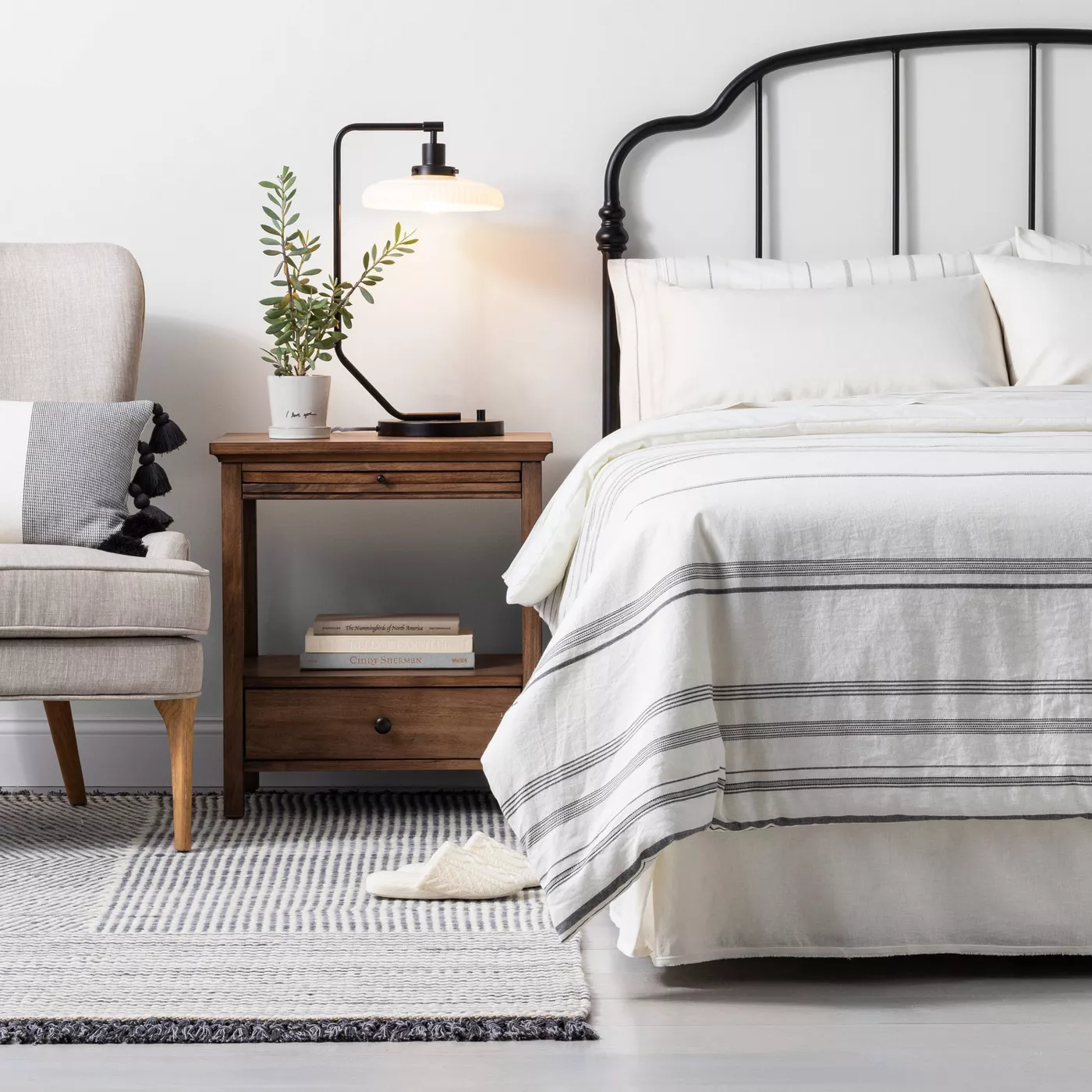 Another Flatweave I really love if you are looking for a more nuetral look is the Safavieh Flatweave in beige cotton. A 9×12 can be purchased for an amazing $211. I may be ordering this rug!!
The Studio Mcgee version on this color way is pictures below. An 8×10 sells for around $1000. It looks a bit thicker and more durable for outdoor use as well.
The Joanna Gaines pictured below . This 7×10 is only $199 and comes two colors. The images are linked as well.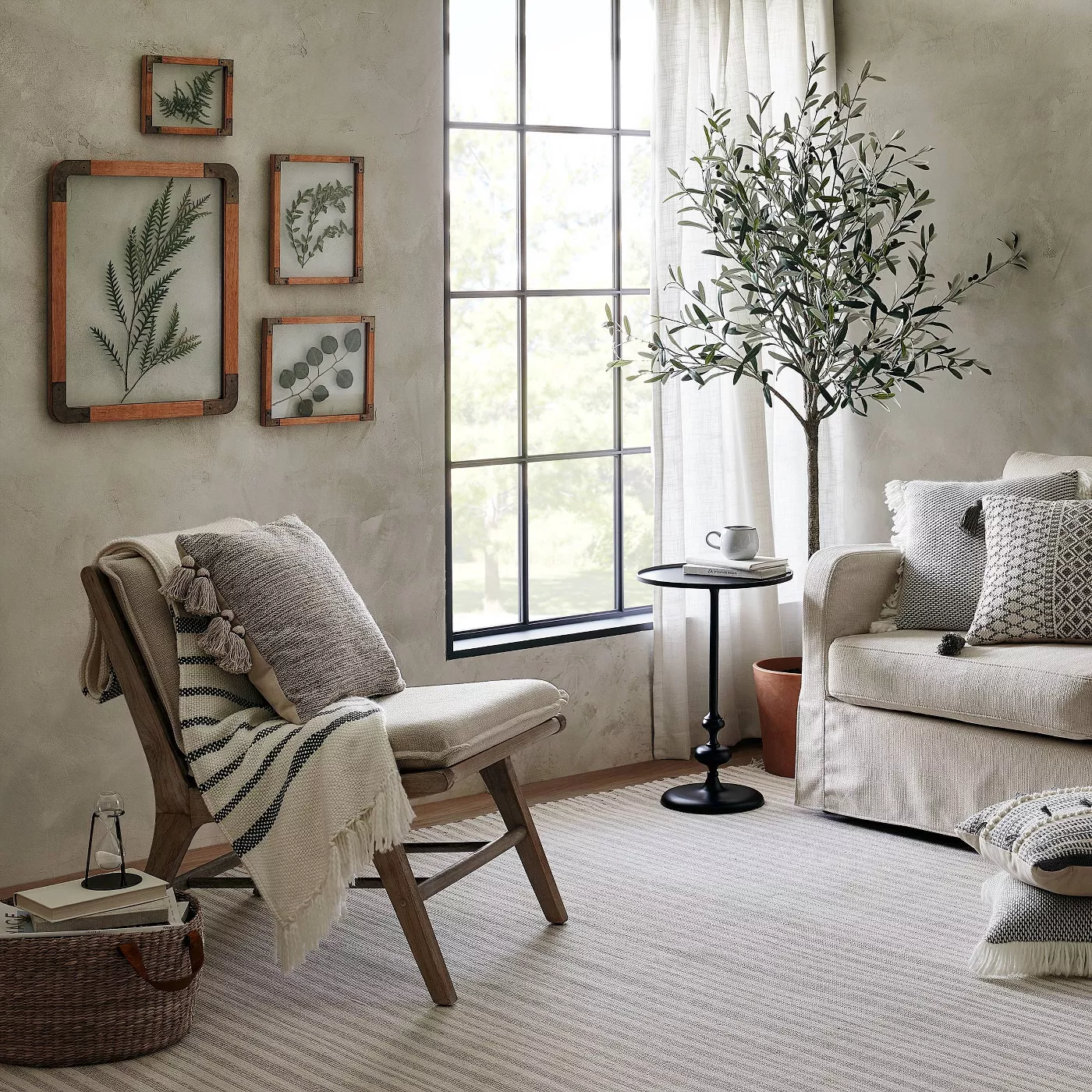 Flatweave
The Safavieh Natural Kilim Ivory Wool Flatweave is one of my favorites at an affordable price point. This is a quality rug that would be great in a living room, dining, or kitchen. I am even tempted to order a runner for the bathroom! This 8×10 sells for around $416.
The high end version of this rug is picture below. An 8X10 sells for around $1200. You can visit the site here for more similar flatweaves the rug pictured above could stand in for.
Vintage Rugs
Slate is a beautiful color if your looking for some coolness but don't want to go totally blue. I found this Safavieh Vintage Slate rug I believe to be gorgeous and at a really great price point. Depending on the seller I have seen the 9×12 go as low as $226.
And because you know there is an inspiration photo coming here is the high end version from Studio Mcgee.
A few more options
If you like a more boho and playful look you might be into this Nuloom shag I found at $260 for an 8×10. This rug would work wonderfully under a bed to keep things nuetral and soft while providing some black to pull hardware details in the room.
The designer version of this is on backorder but I have linked it so you can feel my inpsiration for this rug! An 8×11 sells for $1700. Yikes
Plaid Rugs
This Studio Mcgee very timeless style is coming back in a big Modern way. I have linked my inspiration photo, if you follow home design I know you have seen it. This rug can fit any modern, coastal, or traditional space adding brightness and relaxed minimal feel. This 8×10 sells for $700.
This favorite as well. A broken stripe…so beautiful and my favorite blue!!
Okay ready for a few affordable options! I have linked some here.
Wool Buffalo Plaid – Navy and White
Studio Mcgee Cottonwood Hand woven Plaid (Target version)
Modway Kaja Abstract Plaid 8×10 Area Rug in Ivory, Cadet Blue and Citron
More Rugs to search
Hopefully your getting a pretty good idea by now what's out there at reasonable prices. I am going to link the pages to my affordable sites below and you can browse shop some of my favorites.
As a side note, I have not linked some rug sites as the return policy requires a restocking fee. I don't find this to be an affordable option but if you find something somewhere else that you like please let me know and I will send you a link.
If this article has served you well with some inspiration please use my clickable links and again I will disclose here that I do make a small commission at no extra cost to you.
STUDIO MCGEE THRESHOLD AFFORDABLE
Please share with me in comments if you find something awesome and happy rug shopping.
Love, Joey